Gearbubble Review: Is It Right for You?
If you're thinking about quitting your job and working from home, Gearbubble may be your ticket. However, before you jump in, there are some things to consider. Read on Gearbubble Review to learn more.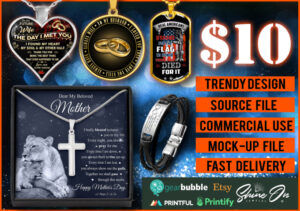 Firstly, be aware that Gearbubble makes a profit from the base price of your products, but other than that, there are no hidden costs.
Gearbubble is a print-on-demand service that allows people to sell their designs on products such as t-shirts, posters, mugs, and other accessories. It offers many different types of prints and customization options for each product. It is easy to use and can help people make money online by selling their designs. However, it is important to know the risks before using this service.
GearBubble is a platform that lets you set up and launch your own online store with just a few clicks. It also offers a variety of features that can boost your sales and traffic. This includes social media integration, a customizable theme, and a robust analytics dashboard. You can even add an upsell feature to increase your average order value.
It is also transparent with its users when it comes to revenue. When you are designing a product for a campaign, the site will show your base cost and net profit side by side. This will give you a clear picture of your profits and help you decide which products to promote and sell.
Unlike other print-on-demand services, Gearbubble has an in-house team of designers ready to step in and assist you with any design issues that may arise. They will not create a new design for you, but they can provide advice and help you tweak your existing one. This is a great way to avoid the frustration of dealing with freelancers and other companies that will try to steal your ideas.
This program also provides you with pre-made, high-converting products that are automatically added to your store. There have been GearBubble store owners who have had massive sales increases, especially during the holiday season, due to these products being added to their stores on autopilot.
The program also gives you access to a training series called "Trends on Demand," which is a course that will teach you everything about the print-on-demand business, including how to find winning products, how to create ads, how to scale, and more. This course is a valuable resource for any newbie looking to start their own print-on-demand business.
It's free
Gearbubble is free for everyone to use. It makes its profits from the base prices of products and doesn't have any hidden costs or registration fees. This is great news for entrepreneurs who are looking to start an online business without investing much upfront. However, you should keep in mind that starting a successful business will require a lot of work and investment. It will also take time before you can earn a profit. In order to make your business profitable, you must invest in advertising and marketing.
In addition to being free to use, Gearbubble offers a variety of tools and features that can help you succeed in your online business. These include keyword research training and a high-conversion theme. Moreover, you can use your store to sell on different platforms, like Amazon and Etsy.
If you're not a designer, there's no need to worry; you can outsource the design of your product to affordable designers on websites such as Fiverr. This way, you'll be able to focus on your business and leave the creative part to the professionals.
Another advantage of using Gearbubble is that it allows you to sell a wide range of products. Unlike other print-on-demand services, Gearbubble fulfills orders and doesn't charge any shipping fees. You can even customize the product packaging to match your brand's style. You can also use the platform to promote your own website or social media page.
While some people have called Gearbubble a scam, most customers reported receiving their orders and were happy with the quality of their products. However, you should always be suspicious of overly negative reviews. Some reviewers may be biased or trying to deceive you.
In order to make money on Gearbubble, you'll need to invest in marketing. While the platform is free to use, very few products will sell without a little boost. Fortunately, GearBubble provides a number of advertising tools that can help you maximize your financial gains. However, you'll still need to spend some time learning how to optimize your site. This will help you make more sales and improve your ranking in search engines.
It's easy to design.
Unlike some other printing services, GearBubble has an easy-to-use designer tool that allows you to create custom designs. You can use it to design shirts, hats, posters, and even coffee mugs. You can also choose from a wide variety of fabric and texture options. Once you've designed your product, you can submit it to be printed and shipped. GearBubble offers a variety of printing options, including full-color printing and sleeveless printing. It also offers several types of fabric, including cotton and polyester. Its printing process is fast and efficient. The company also specializes in shipping worldwide, making it a convenient choice for many sellers.
Another advantage of GearBubble is that it provides a number of tools to help you maximize sales. For example, you can get a professional website and connect it to a payment processor. Additionally, you can create a Facebook page and target ads to specific users. This way, you can make the most of your investment.
GearBubble also has a unique business model that makes it possible to earn money without any upfront costs. The company does all of the production and distribution, so you don't need to worry about investing any money upfront. You can also set up a crowdfunding campaign, which has a seven-day lifespan and can be extended using the auto-relaunch feature in the launch options.
Another feature that sets GearBubble apart from other print-on-demand sites is its compatibility with e-commerce platforms such as WooCommerce and BigCommerce. It also allows you to sell your custom products on these platforms, and it can be integrated with the Amazon, Etsy, and eBay marketplaces. This way, you can attract more customers to your store.
If you're not ready to start a full-fledged shop, you can opt for GearBubble Pro, which is an e-commerce solution that offers a fully-set-up storefront with a high conversion theme. It also comes with a pre-loaded catalog and on-trend products that are automatically added to your store.
In addition to its customizable features, GearBubble has a premium training program that helps you make money online. The course, called Trends on Demand, costs $1997 and includes coaching calls, strategies, and techniques. It will teach you how to find winning products and make a profit. It will also provide you with a blueprint for running 5- and 6-figure campaigns.
It's easy to sell.
Gearbubble offers a range of print-on-demand products that you can sell online. These include posters, hats, t-shirts, mugs, and phone cases. The website also allows you to customize the color and design of your product. You can also set a price for your product, and Gearbubble will calculate your net profit.
Another feature of Gearbubble is that it integrates with other e-commerce platforms. This makes it easier to sell your custom products through other channels, such as WooCommerce, BigCommerce, or Magento. This is a great benefit for those who want to maximize sales on multiple platforms.
The site is easy to use and has an intuitive interface. You can create an account for free and then upload a photo or other artwork to create your product. You can then add text and other elements to create a unique design for your product. Creating a product is easy, and the site will give you a preview of your final design before it's printed.
In addition to making it easy to sell your products, Gearbubble provides excellent customer service and a wide range of customization options. They also offer a variety of shipping services, which can make it easier for you to reach your target market. Nevertheless, their limited product range and shipping times can be a disadvantage for some users.
You can use Gearbubble to sell your prints through Amazon, and you can even create FBA-qualified shirts with their Print on Demand service. This can save you a lot of money in fulfillment fees. It also helps to reduce your inventory levels, which can help you increase your sales.
Gearbubble's platform is also highly scalable, and you can create as many stores as you want. In addition, you can promote your store on Facebook and other social media platforms. It is important to remember, however, that you'll need to invest a significant amount of time and money into marketing your products to make any real money.
If you're looking for a way to increase your average order value (AOV), then check out Gearbubble Pro. It's an e-commerce platform that includes high-converting products that are already proven to convert. You can even get pre-selected products added to your store automatically, and they'll send traffic to your store for you as well.
digital marketing
local marketing
local marketing vault
online course
training program